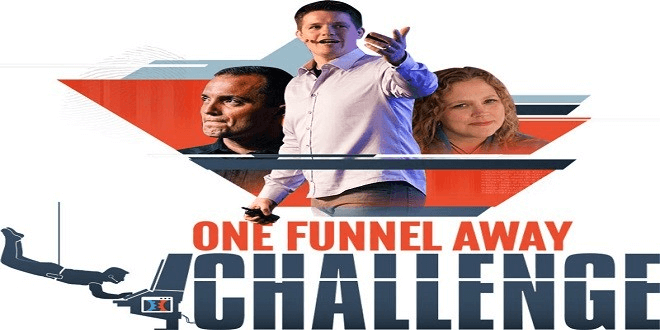 One Funnel Away Challenge Review – An easy sales funnel system like ClickFunnels can really help boost your sales just like the way it increased by ebook sales by 150%.
But you know what's more, the results i got was modest when compared to other people who use clickfunnels or have been using it for years now.
Be that as it may, in case you're new to the internet marketing based on selling or have never been involved in a sales funnel, just take a deep breath, relax and smile. There is nothing to worry about. This one funnel away review got you covered.
You definitely will start asking this question, which is 'where do you start from?
One year back I was a total novice to using sales funnels but then i took the step to signing up to the one funnel away challenge, which is the lead preparing manual for ClickFunnels made by its owner Russell Bruson and that changed the whole game.
In this my in-depth One Funnel Away Challenge review, I will reveal to you all that you have to know about this popular training guide and my oersonal experience i gained with it.
You will have a –
Good comprehensive overview of the one funnel away challenge.
Show you in detail step by step how this helped me increase my sales and sell so many different products.
Outline the pros and cons of the one funnel away program.
My One Funnel Away Challenge review is ideal for anybody totally new to sales funnels and who needs a straightforward introduction and guide to this training.
This is the article I really wished I could have read before i signed up for the one funnel away challenge.
Let's get started…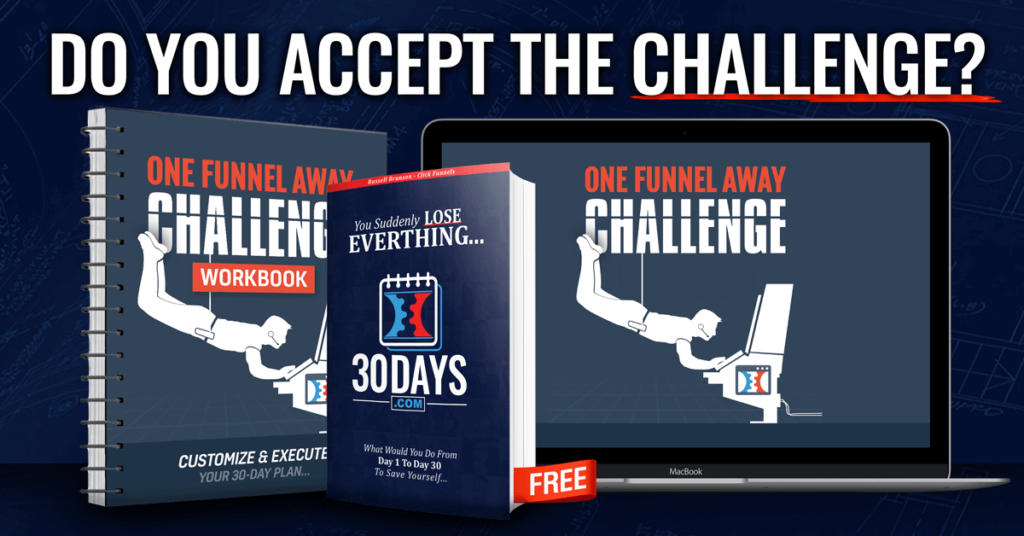 What is the One Funnel Away Challenge?
The One Funnel Away (OFA) Challenge is simply a virtual 30-day guide that will walk you step by step on a consistent basis on how you can create a highly profitable sales funnel.
I had to take the challenge myself when i started out at first with the sales funnel. Russell Brunson, Stephen Larsen and Julie Stoian are the teachers you will meet inside the program. Through video lessons, they will instruct you all that they've learned in building up different million-dollar sales funnels.
Every day, they will really breakdown so many different themes for you and give you a task (which is more like a homework) that you have to finish to get to the next stage.
Before now you might have known that people retain 90% of what they learn when they put it into quick practice, so when you complete the every day tasks, you're really gaining a solid knowledge and foundation.
Be that as it may, don't stress yourself, the daily task which is set by Russell aren't too hard to even think about completing; nonetheless, they are intended to make you stretch you beyond your limits and make you think outside the box, because that is what makes you different from others and that is what makes you win.
When you complete the 30 days, you'll be prepared to deliver your first (or next) sales funnel to the world.
Who is this challenge for?
In any case, is the One Funnel Away Challenge for you? I really don't think this test is for everyone. The test is a profoundly relentless test that requires your time and good attention for 30 days.
However, if you fall in any of the below listed options and you want it fixed then the one funnel away challenge is for you;
Have an idea for an online business but you don't exactly have the foggiest idea how to get your items/benefits out there.
Have reached a stopping point with your business and need an organized course of action to arrive at the next and better level.
You are an affiliate marketer who needs to expand your sales.
Have never in any way built a sales funnel but you want to get started.
Need to fix a current or existing funnel.
If you are running a profitable business, but still want to increase and get better results, then this is the funnel for you.
And here are people who should not apply for the one funnel away challenge;
Don't have the opportunity to watch the vidoes and work through the task.
Want a "make easy money" or "get-rich-quick" business system
Want a training that they can save for quite a long time without any further adjustments for better results.
Don't have confidence in putting cash into their own business (this one funnel away challenge isn't free and we'll discuss the cost later on).
Think their business sales funnels are great and therefore do not have any need to improve it.
However, if you fall into any of the above mentioned, you'll really need to stop reading this review because it really means the one funnel away challenge is just not for you.
One Funnel Away Challenge Review: How the One Funnel Away Challenge helped me
I really do not raise numbers or talk about my online success than so many other online marketers.
There's a lot of online marketers out there who are significantly more eager about doing that than I am.
However, it will be useful to give you a very good step by step overview of how this one funnel away challenge has helped me. It will really give a good context about so many things i talk about in the one funnel away review.
So here's a concise overview of my story.
Before I found the One Funnel Away Challenge program, I was a blogger who wasn't really making large amount of money.
However, i was so good at getting a lot of traffic to my website but converting them into sales was the problem, but until i got involved in the one funnel away challenge, the whole story changed.
By August, 2019 I was getting 50,000+ unique readers or visitors to my website just only from organic search. I really thought that by the time i get this much traffic i will be making large amount of money, but it wasn't like that.
I needed to sell so many ebooks that is the reason i started looking for a solution to increase my sales. I then tired out so many different marketing platform and also using shopify. However, this did not help much because i was also paying for advertising and just had to find another way out.
After few months of looking at the mistakes i made, it was so clear i did not have a sales funnel to make things much better and easier. i began browsing the internet and found ClickFunnels, with so many positive reviews, i just had to give them a try.
To enable mw get started, i knew i had to make use of the one funnel away challenge so i can better myself and increase my skills.
the One Funnel Away Challenge taught me everything i know today and i easily designed my funnel and increased my sales by 140%. This was really incredible. All this was possible because of a good sales funnel. The One Funnel Away Challenge is really what you need to get to that next level, you will not regret it.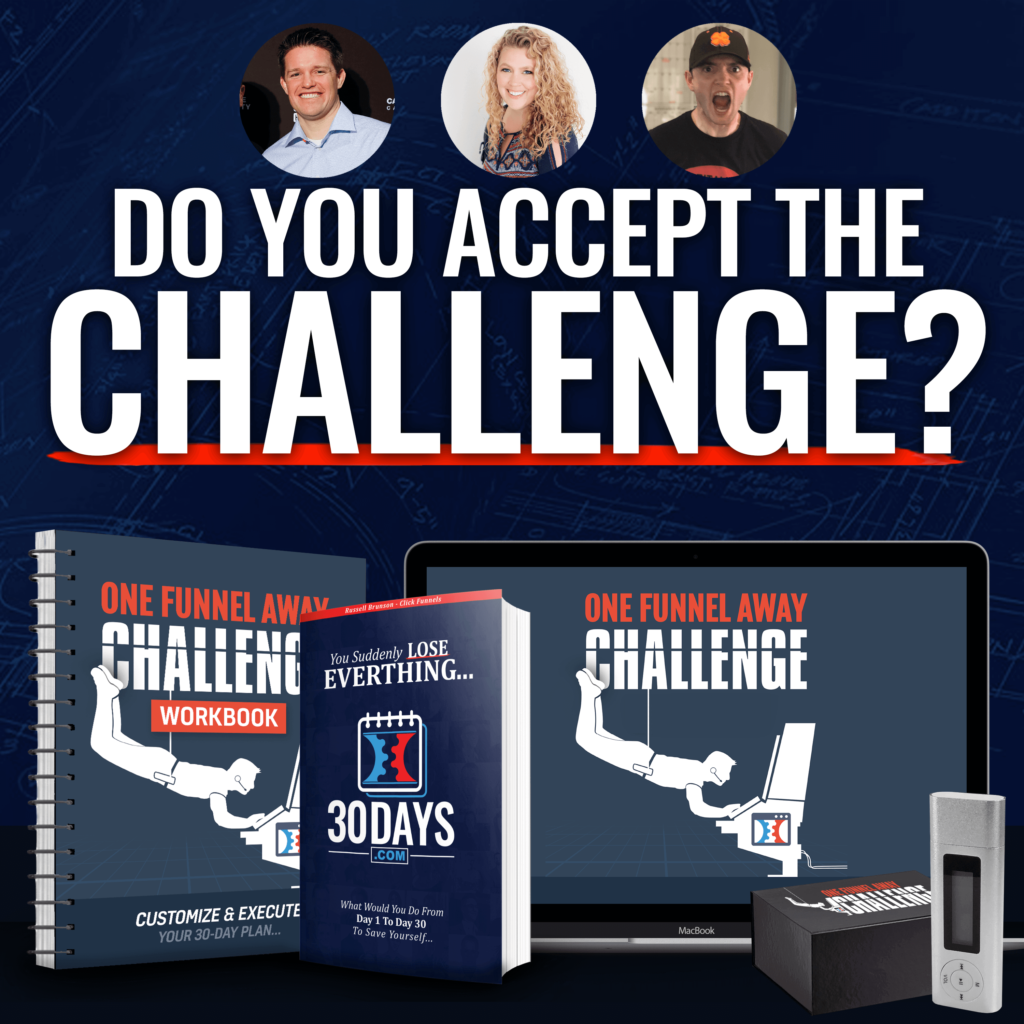 One Funnel Away Challenge Review: How my eBook sales Increased by 140%
About a year after joining the ClickFunnels, my eBook deals have increased by over 140%. I went from selling $150 of eBooks a day by using only shopify to seeling up to $450 with ClickFunnels.
To be honest the traffic I send to my page did not really increase but what changed was the order rate because it increased from $12 to $22. This really made all the change.
Looking into my Funnel Strategy
I had to make a pick on the 2-step TripWire which I learnt in the One Funnel Away Challenge. This really was simple and perfect for selling ebook.
I also made use of 6 step funnel options – which are;
Sales page
Order form
Upsell
Downsell
Order confirmation and
Delivery of eBooks.
One very good things about the One Funnel Away Challenge is the fact it will really help you design any sales platform you need.
For what reason would it be advisable for you to think about Funnels?
Before I get into the fundamentals of the One Funnel Away Challenge program, I need to clarify the significance of using a funnel.
Without understanding why funnels are crucial to your business, you won't really understand why the information in the OFA Challenge is so significant. In case you're new to internet marketing business, you won't have any desire to avoid this part.
Basically, a business funnel is the steps that directs your customer towards your offer, regardless of whether that is an item or product, service or an affiliate sale.
At the point when your funnel is organized properly, it goes about as a sales representative who holds the hand of your possibilities, shows them the way and urges them to buy quickly from you.
We partake in numerous business sales funnels each day, from purchasing our morning coffee to getting goods, to shopping on the internet for things we're really interested in.
As a good entrepreneur or business owner, you should realize how to improve your funnels to get more clicks, leads, and eventually, sales. And also with addition of a good email marketing software like GetResponse, you will see an instant increase in your profits.
However, sales funnels can be really complicated, and if you don't have a clue what a legitimate sales funnel resembles, it could really end up as a bad deal for you.
An inadequately poorly planned funnel will spill out possibilities of closing a sale and leaving you with low conversion rates and disappointed customers.
Then again, a very important part about funnels, is where it helps you scale your business to the next level.
The One Funnel Away Challenge will take you by the hand and show you totally all that you have to know to make high-conversion sales for your business.
Sound great? We should jump into the program.
What you get with the One Funnel Away Challenge? [One Funnel Away Challenge Review]
The One Funnel Away Challenge is a psychological framework intended to set your business into making more money from the internet.
However, when you join this program, you'll get a box filled with all the details and knowledge you need, which will be delivered straight to your door (that is if you decide to pay for shipping, but if you decide not to pay for shipping, then it will all be done online. you will recieve all the details in a soft-copy.
Here is what you get when you join?
1. 30 Days of complete detailed Videos from Russell Brunson.
Russell Brunson, is the founder of the ClickFunnels, began his own $360 million SaaS business, totally self-funded.
He is a best selling author who has sold more than 250,000 books and has a large following of millions of business entrepreneurs.
Honestly, he's somebody you need to be taking advice from, because he was once at your stage, and he can get you moving forward faster than you can imagine.
For 30 days, you will get different detailed informational videos from Russell Brunson that will improve your sales funnels and help you build a better business.
2. 30 Days of Coaching From Stephen Larsen and Julie Stoian
Julie Stoian, this is another seven-figure business person, and there to give you the specific advances you have to place Russell's videos without any hesitation.
She will assist you with getting everything ready for action and is there to manage your sales funnel creation process.
What's more, ultimately, Stephen Larsen, the former prestigious Lead Funnel Builder for ClickFunnels, has created more than 500 sales funnels.
After he left ClickFunnels, he made his own organization starting from the earliest stage and produced over $1 million in just 13 months.
Stephen keeps a daily group calls and will help you in any possible way. He's an honest person and will let you know what you need to hear.
3. One Funnel Away Challenge bonuses
The above listed video recordings and necessary calls are worth more than $2,000 when offered separately, and truth be told, they are everything you truly require to make your funnel successful.
Be that as it may, similar to any great sales rep, Russel Brunson additionally tosses in a lot of rewards or bonuses to make joining the test very compelling.
Here are the One Funnel Away Challenge bonuses you'll get involved in after you enroll;
Physical duplicate of the exercise manual – Studies show that writing down your notes using a pen to paper will enable you to recollect what you're learnt in a way that is better than taking digital notes. You can utilize your physical exercise manual to take notes and help hold all that you are learning.
4. 30 Days hardcover book
Russell went further to ask 30 different members from his Two Comma Club (ClickFunnel members who have earned more than $1 million from their business funnels) this question:
"what will you do if you lost everything, including your name, reputation, and followers? How will you win back your millions in just 30 days?"
He asked his Two Comma Club individuals to put out a step by step plan for the individuals who are simply starting out, so they can reach $1 million in sales.
Their answers were gathered and placed into a hardcover book.
It really like having 30 different blueprints you can use to build out your million-dollar funnel with ease and all in one place. This one bonus alone is amazing.
5. MP3 Player with all the recordings.
If adding an extra one hour of work into your day will be so stressful, you can use the MP3 player to easily listen to the recordings any place and at any point to make it really easier.
The recordings will definitely have Stephen's instructing calls and coaching from the last challenge.
Altogether, you'll have more than 40 hours of coaching calls and meetings on your MP3 that you can easily and conveniently listen to when you want.
6. Unlimited access to 30 Day interviews
During the 30 day challenge, you will be occupied with finishing the videos and building your own high-converting funnels.
The meetings added to this program are filled with supportive goodies, however if you don't finish watching the videos before 30 days, you can watch it later on at your own pace because it has an unlimited access.
7. Interviews with the Two Comma Club
In these interview, 30 Two Comma Club members will talk about the mistakes they made in the past so you can prevent them and they better way to approach it. They spill out all you should know, and this is only available to the one funnel away challenge members only.
What you will learn in the One Funnel Away Challenge
Here's a review of what you'll learn over the 5 weeks of the One Funnel Away challenge:
Pre-challenge week – This will be all about getting in the right mindset to move your business forward.
Week 1 – Learn the essentials of how to sell on the internet, including how to get the consideration of different customers with a hook, the significance of story telling, and what you need to build an attractive offer.
Week 2 – This will be all about sales copy. This is the week I appreciated the most as it's totally applicable to selling books and any product. I adapted precisely how to tell a story, implement a hook that produces an enthusiastic response from the reader, and how to create the "aha" moment in the minds of your audience about your offer.
Week 3 – The basics of building your business sales funnel. This is the common sense approach I wouldn't have had, if i did not join the OFA challenge. I figured out how to make sales pages, sequence pages, One Time Offers (OTOs), and so on.
Week 4 – Focuses on traffic and how to promote better. Despite the fact that I'm a SEO fellow who uses organic traffic, it was still good learning about paid traffic and implementing it into my business. I really learned several things to increase my sales just within 5 weeks.
In any case, two things stand apart as the game changers for me:
Exactly how to easily tell a story about the product i was selling. As Russell Branson clarifies in the initial first few weeks, there is a layout for easy story telling guides that could apply to any item or product. My sales pages are so much better for having learnt this skill.
Actually making a sales funnel myself. Before the end of the challenge, I had a deep understanding of planning a high-converting sales funnel, and how to easily create it inside ClickFunnels. I figured out how to manufacture a sales page, squeeze page, an upsell page, and so forth, and the proper sequence depending on the product i want to promote.
Presently, many individuals say you have to read or have time to listen to everything the 3 instructors have to give you (all together) and complete all the task without failing.
I believe they're exaggerating how tough the program is. You do need to actually put in more work than the average online marketer. however I skimmed over a couple of things that were less important to my business and was so focused around the things that truly made a difference to me and my business. I think a little hand picking of important aspects of this program works very well.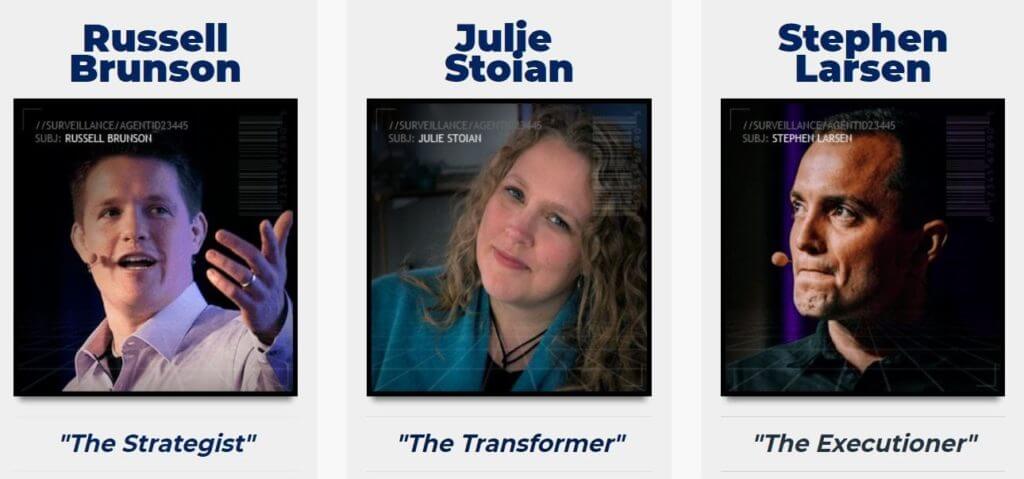 Benefits of joining the One Funnel Away Challenge [One Funnel Away Challenge Review]
As sides from having an information that accounts for over thousands of dollars, you won't see elsewhere, there are a couple of different benefits to the OFA Challenge you need to know.
Pros of the One Funnel Away Challenge.
Joining the One Funnel Away Challenge will open numerous doors for you, including the opportunity to become acquainted with the absolute best online advertisers such as (Russell, Julie and Stephen).
You'll additionally have the option to collaborate with other challenge members, a significant number of whom are incredible individuals to coordinate with and become more acquainted with.
Cons of the One Funnel Away Challenge
Know that when I say this course is relentless, I would not joke about this. You don't have to work through things gradually and reluctantly. If you decide to take any time off, then you might be left behind.
Well, I wasn't the perfect student but when it came to this challenge, i had to force myself to get all the knowledge i require to move my business forward and increase my skills. Does the hard work worth it? The answer is Yes.
Frequently Asked Questions about the One Funnel Away Challenge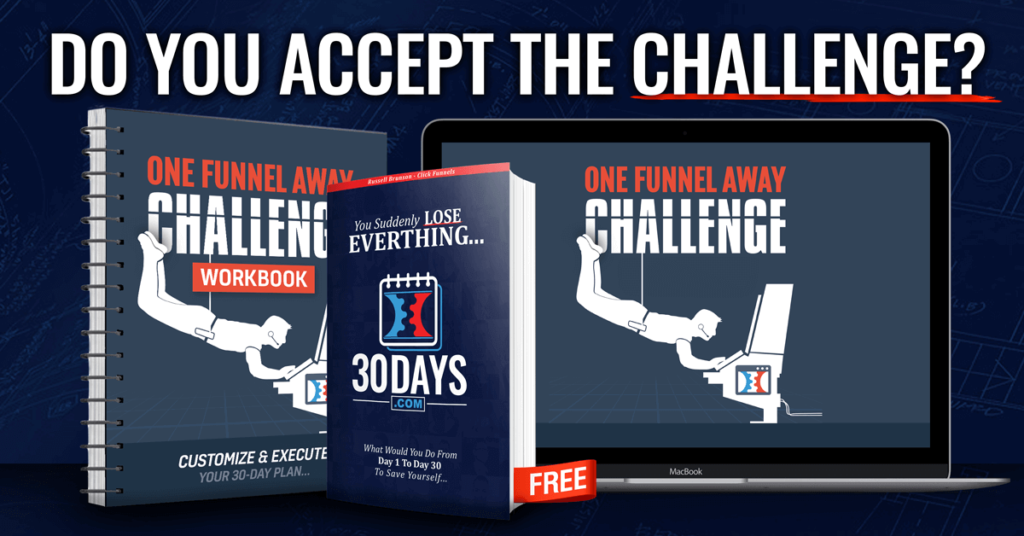 What amount does it cost?
The One Funnel Away Challenge costs $100. If you need the physical pack, you'll need to pay for shipping that costs $19.95 if you leave within the US and $29.95 outside the US. However, you can simply get to the digital version of the challenge without any shipping fee.
Is it worth the cost?
Yes, it is worth the cost, your total cost to join the challenge is $100. This is not pocket change, however it's a pretty little expense compared to what you will gain from this program. Before the end of the program, you'll bring in that cash back into your pocket and much more by using your newly designed sales funnel and improved skills.
In one day you can setup your sales funnel immediately and start making your money immediately. What's more, to see how good this is for only $100, Russell Brunson charges $100,000 to sit with clients for just a single day of training. Furthermore, that is excluding Julie's and Stephen's rates for coaching.
In any case, with the OFA Challenge, you have 30 days of coaching with these three elite advertisers at a small amount of the cost.
Do you need a ClickFunnels membership?
The good thing here is you do not really require any extra programming or software or add-ons to finish the work or learn from the information provided.
In any case, i must say to make things easy: ClickFunnels makes the sales funnel building a lot more easier. After attending the challenge you will see yourself joining the ClickFunnels service. What's more, by week 3 into the challenge when you begin creating your own funnel, having a ClickFunnels record will help.
In any case, building out a business funnel should be possible in a wide range of ways:
* Through your website
* From your email marketing software.
* From other funnel building software.
However, if you decide to take the challenge and not register for clickfunnels there is no worries. you will still gain all you need go get.
Why can't I learn what i need online for free?
You can totally find out about funnels and direct response marketing on the internet for free. Actually, I've learnt a vast majority of the things I know about blogging and online marketing using free marketing knowledge. However I didn't think for a second to join the One Funnel Away Challenge myself.
Here's the reason.
To start with, when you Google "sales funnel for beginners," almost 55 million searches show up. Also, from those results that show up, many are obsolete, outdated and inaccurate.
Also, you can check how long it will take you to put together all that pieces of work together before you start getting positive results.
Might take up to 6 months?
or maybe better, 1 year?
You now have to ask yourself how much your time is worth. If you have months (or years) to attempt to really try and struggle learning sales funnels all alone and you're in no hurry to drive your business forward, maybe learning without anyone else is the best for you. But note also you will make so many mistakes and that will cost you loss of sales and also loss of customers.
At the point when you consider it from a very good viewpoint, $100 truly isn't that much for an investment that is going to make your life easier, much better and positive results immediately.
However, if you need learn and figure out sales funnels from the best in the business just within 30 days, then the One Funnel Away Challenge is your answer.
On a second note, free courses have very low competition rates. 85% of individuals who bring out time and register for free programs end up not finishing the program.
Maybe you are thinking right now, that you are different and you will finish the program, but trust me – when you are really involved (i mean by having money invested) then you will put in extra effort to accomplish that purpose.
Will i be able to join the challenge anytime?
Unfortunately, you can't join the challenge whenever. Since this challenge is so active, Russell, Julie and Stephen need to work around their own schedules to give you a concise attention. The challenge is open at this moment, but there is no assurance that it will be open afterwards (Russell doesn't have a date for the next challenge and hasn't determined if there will even be one).
My One Funnel Away Challenge Review Final Verdict.
The One Funnel Away Challenge has been getting a ton of notice by so many business people and online entrepreneurs lately. I'm pretty doubtful about so many online courses, particularly those that have to do with internet marketing.
But here is the good part, Russell Brunson from ClickFunnels is a ultimate salesman. The charming sales page for the One Funnel Away Challenge is really a proof to that.
The basic truth is that, the One Funnel Away Challenge delivers genuine value to whoever is ready to learn and prepared to commit to the 30 days training program.
As i said earlier, i had hit a hard rock when i was selling my ebook before I joined to the OFA challenge. After that it increased my sales by 140%. It is simple, if you can focus on doing just a little work everyday for 30 days, then the One Funnel Away Challenge will really help you make so much money from the internet.


































Got more time? here is the Funnel Hacking Secrets Review.
Brick and Mortar Funnel Review